Living in LA.
Dash Radio Sat 11 – 13
2Tight Radio Fri 19 – 20
Over 170 Mix CDs Released
Collaborations with US Artists such as NIPSEY HUSSLE, and many more artists.
(Japan Tour and/or Official Mix Tapes)
2018
Torres Empire Super Show 2018 LA Convention Center Main Stage
2017
US Tour with KING LIL G – 25 Shows April – May 2017
US & Canada Tour with LIL DEBBIE – 20 Shows Feb – March 2017
2016
Q104.7 Ventura Friday 6pm-9pm Apr – Aug 2016
B-Real TV B-Real's Dr. Greenthumb Show
Through his various work throughout Tokyo and L.A., DJ Couz showcases his multiple talents worldwide as a DJ and producer. His deep knowledge of the West Coast Hip Hop culture has established him as a unique DJ, and his lifestyle as well as his DJ style has brought many followers.
DJ Couz is living in LA now, and he often appears on Big Boy's Morning Show and its events as a homeboy of Big Boy, a well known Real 92.3 personality. DJ Couz has been involved with "Big Boy & DJ E-­Man presents Mickey Fickey Mix Japan Tour" from vol.1 to 14 since 2001. He has also brought many artists to Japan, such as Xzibit, DJ Quik, Frankie J, Baby Bash, and more. DJ Couz has definitely played a major role in developing West Coast Hip Hop in Japan.
Furthermore, there is no other domestic DJ in Japan who plays such an important role in introducing the hottest US artists to the Japanese market. DJ Couz continues to do so through his work such as releasing an official mixtape with Nipsey Hussle.
As a producer, he has produced a song for the "Kevin's Jeweler" commercial, which was on air for more than 7 years on Power 106 FM. Furthermore, he has produced songs such as "Floating" with G. Malone and B-Real on the track, Nipsey Hussle's "Squeeze First", S.C.C's "Hunit $ Bill", and more. He has showcased his talents to the world as a producer through these projects. He has also produced for Japanese artist, AK-69, on "I Don't Give A FxxK" feat Maccho on "The Red Magic" album, which hit No.3 on the Japanese Oricon chart. He has also produced Hokt's "OG Kush" feat Big Ron on "No Limit" album, and many more.
When he works in L.A., he is the official DJ for Damizza, a producer for Mariah Carey, as well as a rapper. DJ Couz appeared on DJ Quik's "Trauma Tour" as a DJ for Damizza, played in huge clubs such as House of Blues, Valut 350 and more. He is currently focused on working to make radio hits, so the day DJ Couz's music gets played on radio not only in L.A., but all over the U.S.A., should not be too far in the future.
Live DJ
Bishop Lamont (Aftermath)
Butch Cassidy
Damizza
South Central Cartel
Young De (a.k.a. Demrik)
Layzie Bone
King Lil G
Past Japan Tour
Big Boy & DJ E-Man
Baby Bash
Beatnuts
Bishop Lamont
Coolio
Damizza
DJ Quik
Frankie J
Funkmaster Flex
Kurupt
Lil Rob
Nipsey Hussle
Ras Kass
Roscoe
Shade Sheist
Xzibit
Young De
DJ Green Lantern
DJ K-Shaw
DJ L
DJ Mr. Choc
Produce Works
[ US ]
"Floating"
DJ Couz feat. G. Malone, B-Real & Brooke Tayler
Produced By DJ Couz & onodub
"Squeeze First"
DJ Couz feat. Nipsey Hussle
Produced By DJ Couz & onodub
"Hunit $ Bill"
DJ Couz feat. South Central Cartel
Produced By DJ Couz & onodub
"I'ma G"
DJ Couz feat. Damizza, Rokks, Los & Dopey Loco
Produced By DJ Couz & onodub
"Hustle Around The World"
DJ Couz feat. Young De
Produced By DJ Couz & onodub
"Westside Music"
DJ Couz feat. Damizza & Young De
Produced By DJ Couz & onodub
"Summertime In 805"
DJ Couz feat. Damizza & Jared "JD" Moore
Produced By DJ Couz & onodub
"C-Luv"
Performed By Damizza, Fingazz & O'Shey
Produced By DJ Couz
Co-Produced By onodub
"Kevin Jewelers"
Performed By Big Boy
Produced By DJ Couz
Co-Produced By onodub
"Pitchin'" Unlereased
Performed By Lil' Eazy-E
Produced By DJ Couz
Co-Produced By onodub
"Each Everyday" Unlereased
Performed By Knoc-Turn'al
Produced By DJ Couz
Co-Produced By onodub
"Waisting Your Time" Unlereased
Performed By 2nd II None
Produced By DJ Couz
Co-Produced By onodub
[ JP ]
"I Don't Give A Fxxk"
AK-69 feat. Maccho (Ozrosaurus)
Produced By DJ Couz & onodub
"See Ya!!!"
Koz
Produced By DJ Couz & onodub
YouTube
"Jump"
Koz feat. Simon
Produced By DJ Couz & onodub
YouTube
"What's Ya Name?"
Koz
Produced By DJ Couz & onodub
"渚"
S.T.M
Produced By DJ Couz & onodub
YouTube
"Fixxer"
S.T.M
Produced By DJ Couz & onodub
"What Is This"
S.T.M
Produced By DJ Couz & onodub
"Hotter Than Summer"
pukkey
Produced By DJ Couz & onodub
"Smooth"
Richee feat. Big Ron & Kayzabro
Produced By DJ Couz & onodub
"Saffire"
Richee
Produced By DJ Couz & onodub
"OG Kush ~ I Luv Cali~"
Hokt feat. Big Ron
Produced By DJ Couz & onodub
"Rule Of Street"
Hokt feat. MC仁義, Guy, 恵庭のシュウ(NCBB)
Produced By DJ Couz & onodub
"Home"
Trailers Trash
Produced By DJ Couz & onodub
"All I Need Is Props"
Gipper & York
Produced By DJ Couz & onodub
"It's The Time"
Terry & Buzz (Eight Track)
Produced By DJ Couz & onodub
"Your Smile – Remix"
RUA feat. Baby Bash
Produced By DJ Couz & onodub
"Brighter Dayz"
From The Album "Katrina Relief UNITED"
Performed By Big Ron, Hokt, 213 High Rollaz & II-J
Produced By DJ Couz
Co-Produced By onodub
Mix CD
Official Mix Tape
"DJ COUZ & NIPSEY HUSSLE – RICH ROLLIN'"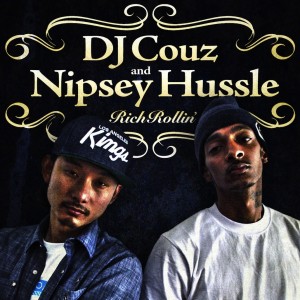 CD Sold Out
Mix Cloud
"BABY REE MIX TAPE Vol.1 (HOSTED BY DAMIZZA )"
"BABY REE MIX TAPE Vol.2 (HOSTED BY DAMIZZA )"
"DAMIZZA PRESENTS WEST COAST COUZIN''"
"YOUNG DE AUDIO HUSTLAZ Vol.1″
"BISHOP LAMONT MECHA-GOD SPILLA"
"RIDE WITH DPG RECORDZ Vol.1 ~ 3″
"DJ COUZ & NIPSEY HUSSLE – RICH ROLLIN'"
"#Hood Famous"
"#Hood Famous Vol.2"
"WESTSIDE RIDIN' VOL.1~48″
"Best West Vol. 1 ~ 6"
"JACK MOVE 1~51"
"Juicy Soul Vol. 1~9"
"WESTSIDE RIDIN' Best West 90's″
"WESTSIDE RIDIN' Best West 90's Remix″
"WESTSIDE RIDIN' – Str8 Outta Compton -"
"WESTSIDE RIDIN' – Represent Dat LBC -"
"WESTSIDE RIDIN' – Welcome To Los Angels 1 -"
"WESTSIDE RIDIN' – Welcome To Los Angels 2 -"
"WESTSIDE RIDIN' – Nothin' But A Bay Area 1 -"
"WESTSIDE RIDIN' – Nothin' But A Bay Area 2 -"
"WESTSIDE RIDIN' – Best West Old School -"
"WESTSIDE RIDIN' – Best West 1992 -"
"WESTSIDE RIDIN' – Best West 1993 -"
"WESTSIDE RIDIN' – Best West 1994 -"
"WESTSIDE RIDIN' – Best West 1995 -"
"WESTSIDE RIDIN' – Best West 1996 -"
"WESTSIDE RIDIN' – Best West 1997 -"
"WESTSIDE RIDIN' – Best West 1998 -"
"WESTSIDE RIDIN' – Best West 1999 -"
"WESTSIDE RIDIN' – Best West 2000 -"
"WESTSIDE RIDIN' – Funk Edition Part 1~2 -"
"WESTSIDE RIDIN' – Funk Edition Part 3 The Best Of Zapp & Roger -"
"DEUCE"
"BLACK URBAN COLLECTION"
"LA SOUL COLLECTION Vol.1 ~ 3"
"LA SOUL COLLECTION Vol.4 2Pac Samples 1/2"
"LA SOUL COLLECTION Vol.5 2Pac Samples 2/2"
"LA SOUL COLLECTION Vol.6"
"COUZ MEETS SNOOP"
"ALL ABOUT 2PAC"
"THE BEST OF WESTSIDE CONNECTION (HOSTED BY WC)"
"THE BEST OF BONE THUGS-N-HARMONY"
"THE BEST OF THE GAME"
"THE COLLABORATION VOL.2 (With DJ Fillmore)"
"THE COLLABORATION VOL.4 (With DJ Side 2)"
"DUBS UP JOINT Vol.1 (With DJ Luckey)"
"DUBS UP JOINT Vol.2 (With DJ Hagane)"
"TUNNEL 1&2″
"4DJs"
"MIX STARZ Vol.1 (With DJ K-Taro)"
"MIX STARZ Vol.2 (With DJ FILLMORE)"
"Platinum Disc -Summertime-"
Mix DVD
"Westside Ridin' Best West 90's DVD Disc 1~3"
"Westside Ridin' DVD 2014"
"Westside Ridin' DVD 2015"
"Westside Ridin' DVD 2016"
"Westside Ridin' DVD 2017"
"Westside Ridin' DVD 2018"
"Westside Ridin' DVD 2019"
"Jack Move DVD 2014"
"Jack Move DVD 2015 1st Half, 2nd Half"
"Jack Move DVD 2016 1st Half, 2nd Half"
"Jack Move DVD 2017 1st Half, 2nd Half"
"Jack Move DVD 2018 1st Half, 2nd Half"
"Jack Move DVD 2019 1st Half, 2nd Half"
"Jack Move DVD 2020 1st Half"